I'm going to tell you about the shelter on Sunday. It's going to come to you in two parts of this post, and I hope you'll stay until the end.
We had 44 dogs to photograph on Sunday.
That's a lot, when we average 30 on a Sunday shoot. It's less than the previous week of 53. We try our hardest to give each dog special time, attention, love, and whatever they need to help them get adopted. Sometimes, this includes giving them a bath, or clipping their nails. Sometimes it's giving them extra treats, or snuggles. Sometimes it's as simple as telling them that they're a good dog, and that they're loved. Words, some of them have never heard before—and for all of them, we mean it. The volunteers I am lucky enough to work with, mean it; EVERY TIME they tell a dog they love them, and they prove it with their labor every Sunday and Wednesday. There is not a group of people more passionate than the people I am lucky enough to call my team mates.
On Monday, after being at the shelter for 6 hours, and spending 4 hours of editing, this comment popped up on a photo one of our brand new photographers took, on a news feed I follow:
"Pisses me off that they stuck a dumb flower on the dog but don't care to bathe her."
and another one.
"Geez, couldn't someone have bathed her"
Perhaps I'm being overly sensitive, but these comments shook me so hard, to the core—I cried.
How dare people, who have NO idea what goes on at the shelter insert their negativity. Instead of bitching and complaining, why don't they DO something? I shared these comments with a couple of the other people in our organization, and it took off like wild fire. It made every person as upset as it made me. Here's why…
On Sunday- at the very beginning of the day. (we start shooting at 930, and I get there around 9 to walk the kennels). I was greeting all the sweeties looking for their forever, I stopped in my tracks and saw a face I will never forget. Ralph lifted his head, but stayed on his bed. His kennel mate greeted me politely, wagging his tail, and asking to be taken for a walk. Ralph just stayed there. Miserable. Defeated.
He was covered in mange, and I could smell him from where he laid. His white fur, exposed a bright red, itchy, mess. My eyes filled up with tears, and I put my hand to the kennel, begging him to come see me. He didn't. He put his head back down, and closed his eyes.
All the while we were photographing, my heart was racing. I needed to get that dog out of the kennel and into my arms. I needed to snuggle him; it might be his last opportunity to be snuggled. When his photo shoot was next, I went to his kennel to get him—as soon as he saw that leash in my hand, he hopped up, gave me a very subtle tail wag, and sat down, waiting for me to slip the lead over his big head. I did, and he immediately rubbed his face against my legs; pushing my backwards. His face was so itchy, he couldn't help but try to get some sort of immediate relief. He left my legs covered with blood. I filled up with tears again, and knew this was going to be an emotional photo session.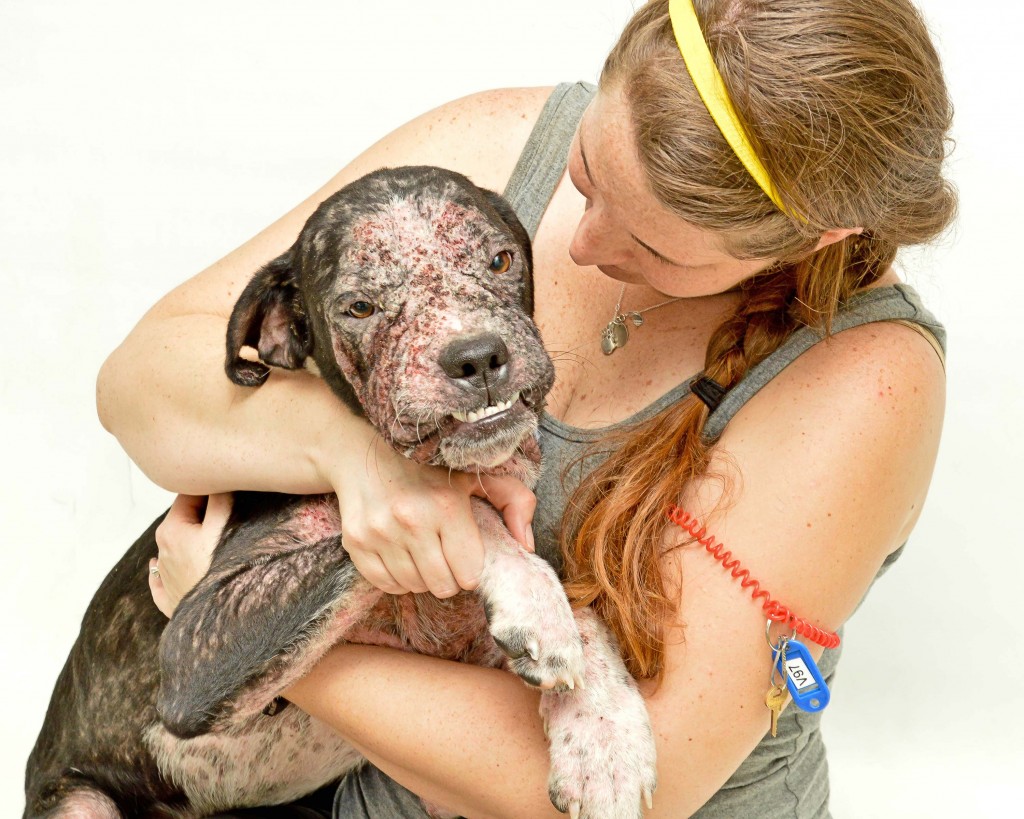 Once we took his pictures—which, seriously you guys—look at this face—we all cried a little, and hugged each other, but mostly we hugged him.
Cynthia—one of Pawsitive Shelter Photography's most passionate volunteers and I decided we were going to bathe this guy. We would give him some relief, even for just a short period of time. So we set up the hose, and special soap, specifically to give itchy dogs relief. And we started. We gently rubbed all those itchy spots on him, on his face, and under his belly. We felt all the scabs, and scars under his arms, and on his back legs. And he sat there, with his eyes closed, loving every single minute. For an hour, we spent extra time with this guy—all of us knowing it would most likely be the last time he felt this loved, this cherished.
We knew it would take an amazing person to walk in, and be willing to adopt this dog. He was a perfect candidate for rescue, because, honestly—what private adopter would be willing to take on such a challenge?
put a little bookmark in your brain, because we're going to come back to this.
Fast forward to when the shelter opened, at 1 PM — we still had about 20 dogs to photograph, all of them small, and most of them filthy. There were two kennel mates in specific, both covered in urine and feces. Both in desperate need of love and attention, photographs, and a bath. Because the shelter was open, and potential adopters were coming in, in droves, we needed to pick up our pace, and get their photographs done as quickly as possible, without denying them the love and attention they so desperately needed. Just as we were about to take their photographs- a person walked up, and said "you have the dog I'd like to meet". Now, we all know that our photographs are amazing and help save lives—<brag>— but, a potential adopter AT THE SHELTER, there to MEET A DOG, goes farther than our photos do. So of course, one of our volunteers, spent time with the family, and the two girls, hoping and praying they'd see the potential in them, to give them a forever home. When they were done, and wanted to move on to meet other candidates, we quickly took their photos, then bathed them. No, we didn't have time to update their photographs, we needed to continue with the other dogs who also needed special attention. But these dogs went back to their kennels looking as good as possible, and smelling FAR better than when they came out.
All in, we bathed four dogs— Ralph, (don't worry, we're going back to him), a dog who's bottom was essentially crusted shut he couldn't use the bathroom, and the two small kennel mates. We also trimmed the nails of a senior who could barely walk because his nails were so long; literally sat in a pool to coax a dog in, for some relief from the heat; cleaned up 55 piles of dog poop, (yes some dogs go more than once); let tick infested dogs, and dogs covered in things you don't even want to talk about, crawl on us, and lick our faces. And this was all before we went home, and LITERALLY spent hours editing the images.
Can you understand why the Facebook comments upset us so much? Do you feel we're being overly sensitive? yeah. I didn't think so either.
Now- let's go back to Ralph.
As we were finishing drying him from his bath, a woman walked up; her face lit up like the sun. "I'm here to meet this boy". I stared at her, completely stunned. "you're an angel," I whispered to her. After they met, and interacted, she was in love. This was her dog. She was taking him home. As we walked back to his kennel, she said to me—there is a girl, who writes a blog, and I couldn't believe she hadn't written about him yet. I laughed, and told her "that's me! and I was going to, but here you are, and he doesn't need my help!". We both got a little teary. We were meant to have met that day. She said, she didn't care what it took, but she wanted this dog, and she wanted him to have relief NOW.
Ralph got his name because his new brother's name is Fozzie—so a nod to the muppets, and Ralph it is. They're going to be fast friends, and he's going to LOVE his new life.
As Rebecca (new mom!) was leaving, she came out and hugged us all, and thanked us for giving him the extra attention, and letting him know that he was loved even before she got there. She knew he was hers, and loved him the moment she walked into that shelter, but she thanked us for spending time with him, and giving him comfort in a time when he had so little.
That's my story, folks. I thank you for following it to the end, and now—I want to challenge you.
It's so easy to throw stones, especially in a time when social media gives us that immediate ability. The woman who posted the original comment had no idea one of the photographers would immediately read it—let alone it be someone who writes a blog—I am an entity behind a computer. I'm not a "human" to her. But I am still a human. So please, if you're upset about something that is going on at the shelter, or within our organization—do something about it. Don't complain about things we've done, when that's all you're doing.
CHANGE IT. Come and help us. Offer to wash the dogs if you're that upset about it.
DO. SOMETHING.
And if you can't do something, then shut up, because we are there, busting our asses for these dogs while you sit at your computer and say things like "I wish I could help".
Guess what?! You can.
Need some inspiration? Here's a post about ways you can help shelter animals.
If you're new here, WELCOME! I'm glad you made it all the way to the end of this post. Cruise around and read all my other blogs. If you read an old blog about a dog looking for adoption—sorry, you're too late- they've all gone to their forever homes. But check back, there is always someone special I'll tell you about. And just so you don't miss a post—add your email address to this fancy email subscriber thingy.