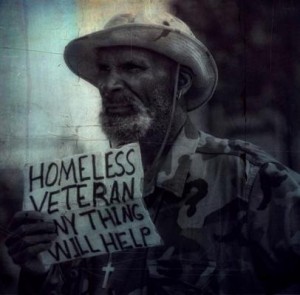 When this ride begins I will be leaving everything I have behind in storage. Living the majority of 2015 in a tent. There is no house I'll be returning to once this adventure is completed. No apartment waiting for me to fill up with possessions and call home. There is no guarentee that when I return to Orlando my employer will still hire me back.
In order to grasp the seriousness of homeless veterans in America I will experience a great deal of what it means to have nothing. It's dis-heartening to imagine those who fought for this country only to be left helpless and alone.  I attribute the training they received to be how most of them survive. I plan on using some of it during my ride. Some of my favorite memories are sleeping in fighting holes with other Marines. Sharing stories and getting the mission completed.
What are your reactions when you see men and women standing on the side of the road asking for your spare change? Do you grab whatever's been laying idle in your cup holder? Or do you ignore their existence completely? Curious as to what ignoring a life adds up to, then you can check the statistics. There are so many out there trying to combat this problem. My medium is my bike and my legs. Hopefully that will be enough to affect some lives.
Along this trip I'll be living off what ever I am able to raise before I leave. Getting funds is a slow and arduous task as I am learning. I pray for strong tires, clear days, and helpful friends along the way. People need to become passionate about this problem. I'm just one guy with a bicycle and already deep down I feel that if after riding over 10,000 miles if it only helps one person off the streets then that will be enough. I doubt I'll ever meet the individuals this ride will be helping I just wish them luck and a happy future.
As always I am grateful for the support I'm currently receiving. I am open to any ideas or tips about this ride. Please share this with your friends and families. Alone like I said I'm just a guy with a bicycle, but together we will become the catalyst that saves someones life.