We all despise poor drivers, and the most common culprit to poor driving is texting while doing so. Whether you heard your phone beep with a new Twitter notification or want to see if people like your new profile picture on Facebook, your use of the phone in your car may prevent you from driving at the correct speed limit, going when the light turns green, or even staying on the road altogether.
Plus, you endanger your life when you do not pay attention to your surroundings. Are texts and tweets and instant acronym-littered communication that important?
This all probably sounds like a PSA about not texting and driving… and it is. But, this post is meant to be more of a life lesson, with the message being this: in the words of my mom, who told me this a few days ago, "don't live your life in thirty second bursts."
What?
"Three tweets, two texts… thirty seconds? I'm not living my life in thirty seconds. Nope."
Think about it – the total time you spend checking your phone in thirty second intervals may add up to the time it would take to have several wonderful face-to-face conversations, ride rollercoasters, go canoeing like you have been meaning to, and read the book you haven't picked up in a few weeks. You may do all of these things, amid the instant communication, mind you, but what if you used more of that insta-communication time towards learning new skills, exercising, resting, and relaxing? Life is busy. It's back-to-back train rides, soccer practice trips, phone calls, headaches, and worries. Put down your phone. The world will slow down and your nails will suddenly get painted and you will have an evening to talk to your grandparents about all of the beautiful moments you have encountered since you opened your eyes.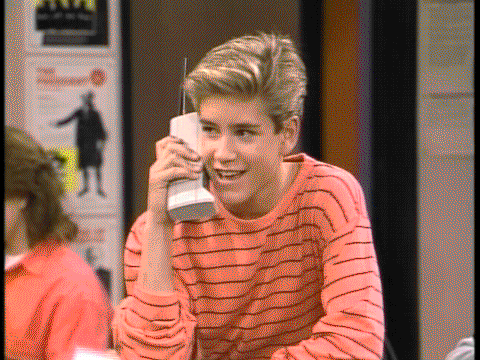 I purposely did not invest in a smart phone for the very reason that I love to be in the moment. I will get one eventually for professional reasons, but for now, I limit myself to phone calls and a few texts here and there. Some days I go out and do not even take my phone with me, or I simply turn it off. I find that when I do this I smile more, talk to the people surrounding me, and appreciate the ambiance of the world. I don't live my life in thirty second bursts when I could live my life in twenty-four hour marathons, with periods of rest and constant appreciation.
Don't live your life glued to your phone. It will pass by too quickly.
Photo credits:
images.express.co.uk
buzzfeed.com
media.giphy.com