I've missed Clyde and Seamore Take Pirate Island ever since it closed at SeaWorld Orlando last year. Granted, I got a special opportunity to get up close and personal with Clyde before the last performance, as you can see in the video below, but I still missed the fun romp with the park's sea lions, otters, and walrus.
Fast forward to April 16, 2015: Clyde and Seamore are back, along with all their friends! The new show, Clyde and Seamore's Sea Lion High, takes place in a brightly colored two-story set that's specially designed to showcase the animals' talents. The sea lions are the stars, of course, but the crowd-pleasing walrus comes out in the end, too, and I love the expanded role for Opie the Otter. He's such an adorable little critter!
Now Opie gets to showcase more behaviors, like retrieving a can and setting a good example by recycling it, swimming through a tube of water, and showing his climbing abilities:
Who knew otters were so smart?
The sea lions have some new tricks up their sleeves…er, flippers…too. I've seen them slide down but never actually climb a ramp before:
They also show off their diving skills:
All the critters, along with their human friends, get together for a fun finale, too: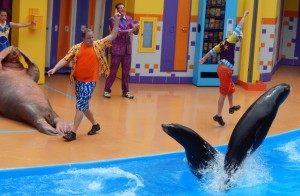 This is all set around a loose story about Clyde and Seamore's attempts to prove that they're worthy of a scholarship. Problem is, their grades aren't exactly up to par, so they need to earn some credit fast in order to earn their ticket to Ocean University. It's a corny but cute plot, as is the norm with the Clyde and Seamore shows. Be ready to laugh at their antics and marvel at just how well they perform. It's easy to see just how closely the animals are bonded with their trainers.
The show runs multiple times a day, so grab a show schedule when you arrive at SeaWorld and plot out your day early. You'll want to hit Clyde and Seamore, as well as One Ocean (orca show) and Blue Horizons (dolphin show), so coordinate the times and plan around the rides, habitats, and other fun activities.
I know I've given most of the press to Clyde, Seamore, and Opie, so I'll let the walrus have the grand finale. Here's an interesting video on what it takes to train the whiskered behemoths, filmed at the send-off for the previous show: