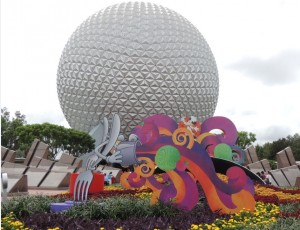 The Epcot International Food & Wine Festival rolls into town on September 25 and runs until November 16. If you're familiar with the event, you know that it revolves around food and drink. Normally the kiosks are in World Showcase, but this year they've taken over Future World, too.
Technically the event is included with your Epcot admission, although you'll need extra money to enjoy some food and drink. Is there other special fun you can take advantage of without paying anything over your admission cost? Sure! Here are some examples:
Marketplace Discovery Passport: Pick up your free passport and use it to help you plan your dining at the kiosks. Then have it stamped at each of your stops for a customized souvenir.
Back to the Basics: On Fridays, you can learn from the experts at informative talks on a variety of subjects. It's a great educational opportunity, and it also gives you the chance to relax in the air conditioning. That's a welcome respite in Florida in a part that's name is often called an acronym for "Every Person Comes Out Tired."
The Ocean Spray Cranberry Bog: The bog is back! It was missing in action in 2014, but you'll once again get a chance to talk to growers and enjoy a free Craisins sample.
Eat to the Beat concerts: The concerts don't require an extra ticket, and seating is first come, first served. See acts like Christopher Cross, Rick Springfield, Starship, and Styx alumnus Dennis De Young.
Of course, if you have some money to burn, the Epcot International Food & Wine Festival also boasts some amazing extra-cost activities. Party for the Senses is among the most popular offerings. It runs select days in October and literally turns you loose in a culinary playground of gourmet food and wine stations. You get to enjoy live entertainment while you nosh and drink to your heart's content. It doesn't come cheap; admission is $169, or $199 if you want a reserved table. Want to go whole hog and have your own bar and artisan cheese selection? Pony up $319 for a VIP experience in the Wine Lounge.
With this year's The Chew tie-in, you can also sign up for "What's Cookin' With…" and meet a celebrity chef like Cat Cora or Jamie Deen. The chef changes each week and this brunch event runs $129 per person.
You can find the full range of premium options on the official Epcot International Food & Wine Festival website.
If you'd like to try something a little different, the Walt Disney Swan and Dolphin Resorts offer the Swan and Dolphin Food and Wine Classic for one weekend each year. This year it runs on October 30 and 31, allowing guests to sample food and wine at a variety of booths. That might sound a lot like Epcot, but the big difference here is that you can buy an "all you can eat and drink" wristband. That makes it a tremendous bargain because you don't have to make difficult choices as you visit tempting booths with creations from the Swan and Dolphin Resort chefs and restaurants. The resort is conveniently located right between Epcot and Disney's Hollywood Studios.
You can also start the party early with one of the special pre-event classes on topics like wine blending, drink mixology, and pasta making. They're great fun, as you can tell by the video below. Full details are on the official Swan and Dolphin Food and Wine Classic website:
Yes, you can spend a fortunate on food, but my downfall is also the merchandise. This year, there are lots of Figment goodies mixed in among the Epcot International Food & Wine Festival merchandise offerings. He's even on the annual passholder's T-shirt.
That might be a good thing; I always feel like I gain at least five pounds each festival year. Now I can divert part of my food budget to merchandise with my favorite little purple friend.