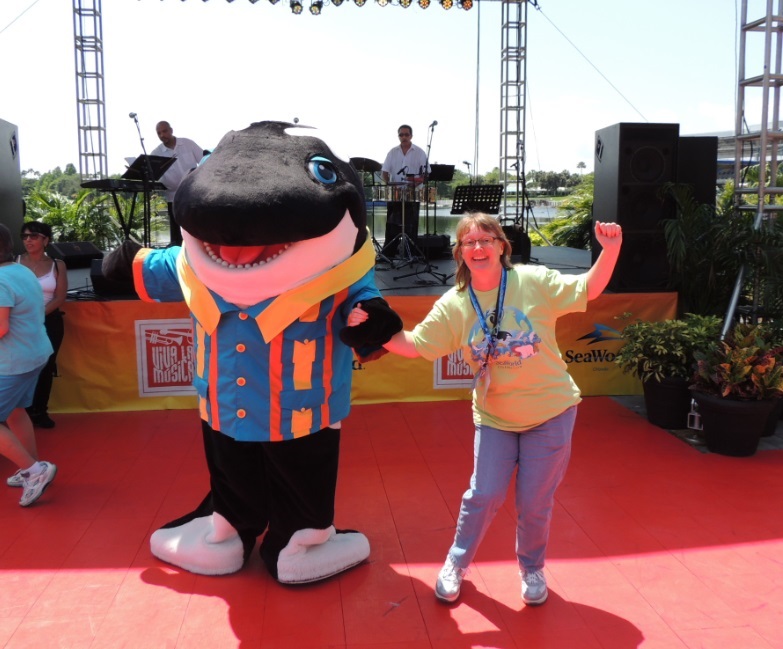 SeaWorld Orlando kicked off its annual Viva La Musica Latin festival on April 26. Every Saturday through May 17, the festival will continue with lots of special food kiosks, music, characters, shopping, and headliner concerts. Chino y Nacho kicked things off, and the remaining bands are La India on May 3, Victor Manuelle on May 10, and Olga Tanon on May 17.
I was there for opening day and can highly recommend pretty much all of the cuisine, especially the empanadas and chimichurri beef. I also have a few tips to share, based on attending Viva La Musica at SeaWorld every year. If you plan to attend, these five tips will help you get the most possible enjoyment out of this lively festival:
1) Get to the park at opening time.
Noon is kickoff time for Viva La Musica, but SeaWorld typically opens at 9 a.m. Arrive early for two reasons: first, to avoid the crowd, and second, to make the most of your time. You can pack in a lot of rides and other attractions before the Bayside festival area opens.
2) Eat early.
Granted, noon isn't early, but what I mean is, make getting food your priority rather than shopping and browsing. You can always do that later, but the food lines get progressively longer so your best bet is to grab some of the delicious Latin cuisine as soon as the Bayside area opens. Then shop, watch the local bands, and meet Shamu and the others characters at your leisure.
3) Go to the Ports of Call seating area to eat.
People tend to gravitate to the first tables they see, and there's a limited number of seating right out on the main Bayside drag. However, many people don't realize that they can just cross the path and find nice, shaded seating in the Ports of Call area. There's a sign at the entrance, but most people blow right by it. That means it's rarely crowded, so grab a table and enjoy.
4) Buy reserved seating for the main concert.
As soon as the festival area opens at noon, you'll see a pack of people rush for Bayside Stadium to stake out good seats. That's certainly one way to do it; it doesn't cost you anything extra, since the headliner concerts are included with your park admission. However, it's a lot easier to just buy a preferred seating package, which includes food and a great concert seat. Then you have more time to enjoy the park instead of holding a spot for hours. If you do go with the "grab a seat early" approach, there are restrooms and concessions nearby so you can take a potty break and get something cold to drink.
5) Stay late.
There's no reason to leave SeaWorld as soon as the main concert is over when the park is open later. Stick around and make a day (and evening) of it. There are still more rides to ride and animals to see. You can even go for a second round of food if your stomach is sufficiently recovered from lunch.
Follow me on Twitter via @themeparkwriter and stay tuned for more tips, observations, comments, and rants from someone who lives close enough to Walt Disney World to hear the fireworks from her house every night. I literally write my blog  In the Shadow of the Mouse.