Once upon a time, everyone was equal when you visited Walt Disney World. You decided what ride you wanted to do, got in line, and waited. Maybe the wait was just a few minutes or maybe, if it was summer or a holiday, you cooled your heels for an hour or more.
Then, in 1999, Disney introduced a little game changer known as Fastpass. This little slip of paper acted as a magic ticket to get you to the front of the line…well, almost. You used your park ticket to get a free Fastpass for the major attraction of your choice. It gave you a one-hour window during which you returned to that ride. At that time, you entered a special line that was much shorter than the standby wait.
Fastpass had its limits. For example, you couldn't get a another Fastpass until you used the first one, with exceptions on very crowded days with very long waits. Also, Fastpasses for the best rides ran out very quickly, so you were relegated to the standby line if you didn't get to the park early and grab one as soon as you dashed into the park. Still, it was a good system if you knew how to work it. Heck, in the old days all the locals knew that you couldn't use a Fastpass early, but you could use it any time you wanted after the start time, regardless of the end time printed on your return window.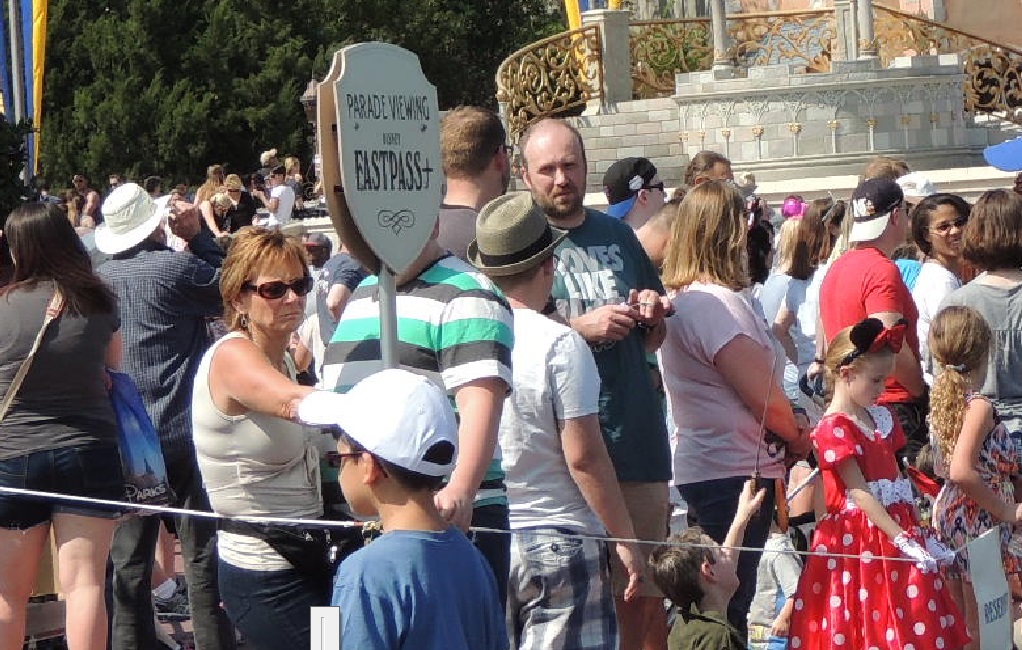 Alas, those days are gone for good, as paper Fastpasses are a thing of the past. Now you've got Magic Bands that work via RFID, and you make MyMagic+ reservations instead of getting those old-school paper slips. This Disney Parks Blog just officially announced that MyMagic+ is available to day guests after an initial roll-out to onsite hotel guests, followed by annual passholders. That means that you make your ride reservations online in what some see as a great planning tool, while others are mourning the death of spontaneity in your Disney day.
So what do I, as an annual passholder, think about MyMagic+? Back when I was a tourist traveling from Chicago, I often booked all-inclusive package deals that came with a precursor to what's now known as the Disney Dining Plan. My aim was always to maximize my value for the dollar, which meant eating at the priciest restaurants. The foodie in me loved it, but it was something of a pain to plan my trip around restaurant reservations. Sure, I could have moved things around during my trip, but that would have meant giving up wildly popular places like Cinderella's Royal Table and the steakhouse in Canada. It was either be a compulsive planner and stay locked into those plans or give up some of the best places as the cost of spontaneity.
Now that's true of rides, too. At the moment, you're limited to choosing three per day, although that's going to change. Also, they must all be in the same park on any given day, but that's going to change, too. The addition of parking hopping will be a big improvement because on of the best parts about having four parks at Disney World is the ability to hop freely between them, provided you have a park hopper ticket. Is the Magic Kingdom getting too crowded? Pop over to Disney's Hollywood Studios. Are you still full of energy when Animal Kingdom closes? Head over to Epcot and stick around for Illuminations. When I was a tourist, I doubt I ever spent a whole day in just one park.
Now, your Fastpass+ reservations will tie you down to an extent. For example, let's say Magic Kingdom is getting packed like sardines, and you'd really like to hop the monorail to Epcot, but you're holding a 3 p.m. Fastpass for reserved viewing of the Festival of Fantasy parade. You have to stick around or lose it. Sure, you can try to switch that ressie to one for Soarin' or Test Track, but there probably won't be anything left late in the day during the busy season. In the meantime, you get an extra stessor when your booking window opens, much as those who seek to have breakfast with Cinderella start dialing the moment the reservation line opens on the appointed day to share a coveted spot.
Fastpass+ also means a lot of last minute changing around if the weather doesn't cooperate. For example, you can make your ride reservations months in advance for the Magic Kingdom, only to discover that it's going to storm all day when you finally arrive in Florida. A park like Epcot or Disney's Hollywood Studios has more to do indoors, but good look with last minute changes to your MyMagic+ plans.
Yes, those are all downsides. but MyMagic+ has some upsides, too. As long as you're diligent with your planning, you can virtually guarantee that your family will get to experience the things that are most important to them, and you'll slash some of the worst wait times. For example, Elsa and Anna regularly have multi-hour lines, so it's a Godsend for parents with little kids to be able to book their greeting via Fastpass+. For me as a local, I can grab a Fastpass+ reservation for Kilimanjaro safari and enjoy a few single rider line rides on Expedition Everest, pop on the safari truck, then head home after a fun morning in the park with minimal waits, even in the peak season.
I'll probably go to the parks more often in the peak season, since I'll know ahead of time that I'll get to ride my favorites, rather than hoping that I don't get stuck at a Fastpass machine behind a Brazilian tour guide glomming a hundred Fastpasses. Instead, I'll stroll into Epcot in the middle of July, knowing that I'll get a ride on Soarin', then grab a coffee and bail when the heat and crowd overwhelms me.
MyMagic+ is still a work in progress, so it remains to be seen how it will all work out. I have my brand-new Magic Band, but my dog, Bolt, turned it into a chew toy, so I'm going to need a replacement before I even get a chance to use it. There's a long summer ahead, so I'll be sure to report on what this opinionated local thinks about the new system and whether the shorter waits are worth the spontaneity cost.
Follow me on Twitter via @themeparkwriter and stay tuned for more tips, observations, comments, and rants from someone who lives close enough to Walt Disney World to hear the fireworks from her house every night. I literally write my blog  In the Shadow of the Mouse.