I celebrated my first Halloween before I was even two weeks old, so perhaps it's no surprise that it's my favorite holiday. My family made the Addamses and the Munsters look downright normal, and my mom didn't believe in babysitters, so she took me to see horror movies literally from my infancy. I was only three when I saw Night of the Living Dead, and I still remember the line, "They're coming to get you, Bah-bra" (pretty creepy stuff when your name is Barbara, too). Thus, I suppose it was inevitable that I would either have an early nervous breakdown or fall in love the Halloween.
I took the latter route, and one thing I love about Orlando is that it's a horror fan's paradise. I frequent both Halloween Horror Nights at Universal Studios Florida and HowlOScream at Busch Gardens Tampa as many nights as I can each season. I was thrilled when Universal officially announced the Halloween Horror Nights dates for 2014. For my fellow HHN fans, they're September 19, 20, 25, 26, 27 and 28; October 2, 3, 4, 5, 9, 10, 11, 12, 15, 16, 17, 18, 19, 22, 23, 24, 25, 26, 29, 30 and 31; and November 1.
Granted, that's less than six months to wait, but it still feels like a long time for my next hardcore horror twist. Thus I was extremely jealous when I heard about the existence of the Staten Island Clown, who's so popular that he even has his own Twitter hashtag: #siclown
Here's a photo from Instagram:
What the heck is that? you might ask. Apparently it's a creepy clown who's popping up in various spots around the city, much like the Northampton Clown did in England last year. And, like his Northampton counterpart, it appears that the Staten Island version is part of a publicity stunt, as reported in various media outlets like the New York Post. He's been linked to a film production company called Fuzz on the Lens.
These days, it's never surprising when something viral is linked to a business or marketing campaign in some way. I think it's pretty cool for a town to have its own creepy clown, whether it's for publicity or simply because some deranged individual likes to go around creeping out people with coulrophobia, the official name for the fear of clowns.
Orlando definitely needs a creepy, wandering clown of its own. Heck, we already have a candidate: Jack, the Halloween Horror Nights icon, whose ability to strike terror into the hearts of the young, old, and drunk alike has been proven over the course of many years at HHN. Fans of the event tend to either love or hate him, and I'll admit that I'm on the "love" side of the coin.
Jack hasn't been around since HHN 20, the year that bid a grand farewell to all the old icons and used in a new era of fear, but I keep hoping to see him again someday. Can you imagine seeing that sinister face peeking out at you from a dark alley as you stagger down Church Street in the wee hours?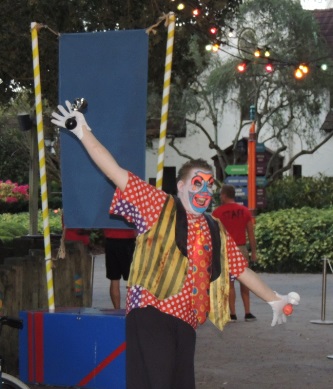 Tampa could have its own city-stalking clown, too. HowlOScream has featured the Circus of Superstition 3-D haunted house for the past two years, and with any luck it will be back for 2014. There are plenty of clowns, both inside and out, waiting to terrorize the masses. You can see one of them at right (note the horn in his hand, which he stealthily uses for his sneak attacks on those waiting in the queue line who think they're safe from terror until they actually get inside the house).
But alas, there have been no creepy clown sightings in Orlando, Tampa, or anywhere else in the Sunshine State. I have only my fond memories of Halloween Horror Nights past, when I got to meet Jack in person and even got spattered with blood all over my white t-shirt at one of his shows.
Here we are hanging out at HHN 20:
In the meantime, I'll just keep reminding myself, it's less than six months until the local Halloween events start up once again.
Follow me on Twitter via @themeparkwriter and stay tuned for more tips, observations, comments, and rants from someone who lives close enough to Walt Disney World to hear the fireworks from her house every night. I literally write my blog  In the Shadow of the Mouse.