One of the best things about being a local who lives in the shadow of the mouse is the opportunity to see things early at Walt Disney World. The tourists will flock to the Epcot International Flower and Garden Festival when it starts on March 5th, but those of us in the know have already seen many of the topiaries and flower gardens.
Obviously, with a festival of that scope, Disney can't toss it together overnight. Instead, it's a work in progress, with preparation that starts early and literally continues until the opening day. Thus, right now you can see some of the classic topiaries, like Winnie the Pooh…
…Captain Hook…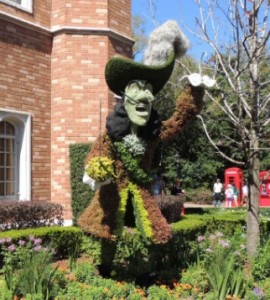 …and Lady and the Tramp.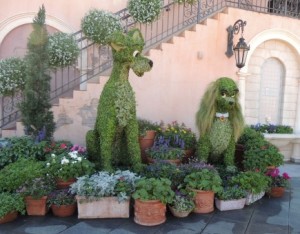 Better yet, you can get a sneak preview of some of this year's brand new offerings. For example, Snow White and the Seven Dwarfs are already out in Germany, and they've got a never-before-seen level of facial detail.
Kermit and Missy Piggy are already on display, too. This is the first time the Muppets have been represented in topiary form. Muppets fans can thank the fortuitous timing of the new movie, "Muppets Most Wanted," which is slated for a March 21st release. The duo is sure to prove popular, which will hopefully pave the way for more Muppet displays in the future.
You never know which topiaries will be out early, but if you're in the Orlando area at any point before the Epcot International Flower and Garden Festival, I highly recommend trying your luck and popping over to check it out.
Locals' Secret
You're probably reading this blog in the hope that I'll give out some of my locals' secrets. I don't want to give away everything, but I do have a great tip that's related to the early Epcot International Flower and Garden Festival displays. You've probably heard about the insane crowds that flock the Magic Kingdom to see the 4th of July and New Year's Eve fireworks every year. Did you know that Disney usually runs those displays a day early, too? Shhhhh, don't tell anyone, but you'll probably get to see the same show if you visit on July 3rd or December 30th. Then spend the actual holiday someplace a little saner and less crowded.
You're welcome.
Follow me on Twitter via @themeparkwriter and stay tuned for more tips, observations, comments, and rants from someone who lives close enough to Walt Disney World to hear the fireworks from her house every night. I literally write my blog  In the Shadow of the Mouse. Email comments and story ideas to hypeorlandoblogger@gmail.com.