I'm a season subscription holder to the Dr. Phillips Center for the Performing Arts in Orlando because I've always been a Broadway fan. I still miss Chicago's vibrant theater scene, but Orlando has stepped things up recently. However, when I was invited to visit Helena, I had no idea that it has quite an amazing theater scene of its own.
The Grandstreet Theatre is a historic site in Helena dating back to 1901, when it was built as a Unitarian church. Now it's home to plays of an amazing caliber of quality, considering that it uses mostly local talent, mixed in with summer stock professionals.
The theater was restored in 1996, giving it an ambiance sorely lacking in newer buildings like the theater in Orlando. One of the things I loved about Chicago's theaters was their sense of history and ornate beauty. While Grandstreet isn't quite as fancy as those, it felt like coming home again to be in a theatre with that rich past and an impressive level of detail. Just look at that window above the sign.
The '80s return to Helena
I'd never seen 'Rock of Ages,' so I was thrilled to see a new (for me) show. I know there's also a movie, but from what I've heard, it doesn't hold a candle to the play. I can see how that would be true, especially after experiencing the show, where the performers break the fourth wall a few times. You can't really do that in a film, unless it's 'The Purple Rose of Cairo.'
My young adulthood was spent in the 1980s, so I knew the songs from the musical score all too well, having lived through the days of big hair and glam rockers. As a jukebox musical, the show is heavy on singing, and the cast pulled it off with aplomb. My only regret was that it had pre-recorded music instead of a live band, but I know it would be very hard to pull off live music in this type of show in such a small theater.
The humor is risqué at times, but 'Avenue Q' is one of my all-time favorite plays, and I also liked 'Book of Mormon,' so that wasn't a problem. I found myself laughing throughout the whole show, and the two-plus hour run time flew by. I discovered that it's coming to Orlando soon, so I might just have to see it again for comparison.
One of the things I really enjoyed was that you could go up on stage before the show and buy a drink at the 'Bourbon Room.' I didn't have a pre-show libation, but of course I had to go up for a photo op:
Afterwards, I took my seat in the fifth row, right hand side, which provided a perfect view of all the action. Even though it's an older theater, there's some staggering of the seats to help vertically challenged persons such as myself, and there's also a balcony if you want that overhead panoramic view.
I'd never really thought of Helena was having such a vibrant cultural scene. Sure, it's got enough natural beauty to draw visitors, but between the symphony and theater, I was pleasantly surprised. Just as Symphony in the Stars had been packed, the theater was full and the audience had a high energy level. It's obvious that the residents value and support the arts. As you can see in the photo below, the show earned a standing ovation:
Dinnertime in Helena
I had dinner at Bert & Ernie's after the show. It was a relatively short walk down Last Chance Gulch, and the menu looked quite eclectic (plus you'll see Ernie inside):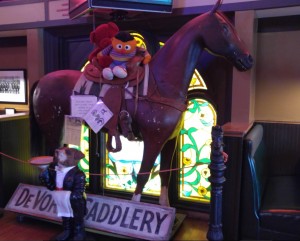 Originally I was thinking of a burger, but the tuna tempted me away. The service was prompt and friendly, the food was delicious, and the side dishes had a nice spice to them. I also tried a couple of beers, including Not Your Father's Rootbeer (which I've been meaning to try). I usually limit myself to one, but since I wasn't driving, I figured why not. I skipped dessert since the ice cream serving sizes at Big Dipper, which I'd had in the afternoon, were massive and had more than sated my sweet tooth for the day.
Since my body's still on Florida time, I called it a night after dinner and some writing and photo organization. I love the fact that the Holiday Inn in downtown Helena has plenty of electrical outlets, plus a dedicated USB station. So many hotels don't have nearly enough power for charging my laptop, two cell phones, mobile hotspot, camera, spare power pack, etc. (yes, I travel will way too many devices), and I end up unplugging lamps and crawling around to find hidden outlets. For once, my power needs are all met conveniently.
I wanted to get an early start for the next day's adventures. I had several things still on my agenda, so I knew the hardest part would be figuring out what to do and how to fit it all in with just two more days to go. My luck ran out with the connecting hotel room door, as I could hear the occupants as though they were in with me. When the noise didn't stop by 10:30, I whipped out my cell phone, cranked up my handy dandy white noise app, turned it on, and slept like a rock (in fitting with the day's theme). If you're sensitive to sound like I am, those apps are real life savers. Given the fact that I've been doubling my daily step goal on my tracker, I needed a good rest to gear up for the next day's adventures. Stay turned to read about day three soon. In the meantime, go here if you missed the first part of day two or want links to day one.