2017 is well and truly gone and 2018 looms ahead with all of its promise of success, or potential for failure. Many people will have followed the time honored tradition of making resolutions for the New Year. Unfortunately, resolutions might be better called promises that just haven't been broken yet. Studies have indicated that only about 8% of people are successful in keeping New Year's resolutions. For many people changing habits or lifestyles that have been established over years may be an impossibly difficult task. Repeated failure to keep resolutions can lead to frustration, defeat, and even despair.
There is hope, however. If you wish to know the secret for keeping those resolutions read on…………….
In 1917, 21 year old William Wilson, the son of an alcoholic, took his first adult drink. The result was an epiphany. He went from being shy and socially awkward to relaxed and confident. That drink lead to another, and then another. Seventeen years later, alcohol had ruined his career, severely damaged his health, and caused untold suffering in his marriage and other relationships. In 1934 he hit bottom physically and emotionally. After being hospitalized following a drinking binge, he was determined to make a change and never took another drink.
In 1935, William met an alcoholic physician named Bob Smith.  The chance meeting had consequences neither would have imagined. Both realized the tremendous value in one alcoholic helping another and from this was born  Alcoholics  Anonymous (AA). William Wilson became one of the most famous "anonymous" people in America and forever after was known as Bill "W".
AA has the most successful track record of any program in helping alcoholics stop drinking and maintain their sobriety. At the heart of the AA program are the 12 steps, a series of statements and declarations intended help the alcoholic recognize his problem and acknowledge his inability to help himself. AA type programs have been established to treat drug use, overeating, and even gambling.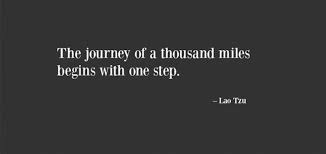 One of the secrets of the success of AA is that alcoholics are not required to make long term commitments to change. There is no contract and no penalty for moments of failure. This does not indicate any compromise in the goals of AA. The goal is total, lifelong abstinence from alcohol. In order to accomplish this seemingly impossible goal, members are expected to focus only on the present 24 hours. They are not asked to remain sober for life, for a year, a month, or even a week. They are only asked to remain sober today. This simple goal is possible for most people. One day becomes another and a lifetime of abstinence results, one day at a time.
This, I believe, is the secret to keeping resolutions. Is your goal to stop drinking, lose weight, get in shape, or make some other significant change in your life? Your success or failure in this will be determined, not by what you do weeks or months from now, but from what you do today. It has been said; yesterday is cancelled check, tomorrow is a promissory note, but today is cash in hand. This is what you have and what you do with today will make or break your resolutions.
For many people, resolutions are something for tomorrow, or the next day. They wonder why they never seem to be successful in making desired changes in their lives. The simple answer is, do something today that will move you toward your goal. It may be abstaining from eating something you shouldn't, or getting up and taking time out of your day to exercise. Whatever it is, do it today, not tomorrow, or some nebulous time in the future.
Taking one day at a time is not a guarantee of success. Life is never so simple. If you stumble one day, however, there is always another today in which to pick yourself up and move on. That's the beauty of it; there is no end of second chances as long as you remain committed to the change and resolve to do better that day. Give it a year and you may see results that will astound even you!
My New Year's wish for you is that you will take that first step toward a new and better tomorrow by doing something, anything, today. That may make all the difference. Happy New Year!