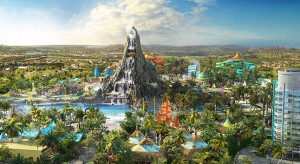 Escape to a tropical paradise of a theme park.  To the delight of all ages, Universal Orlando's third theme park, Volcano Bay, will open on May 25, 2017.  This new water theme park will also be Orlando's only park offering Virtual Line ease, which means you won't have to stand in any long lines.
Based on the fabled Waturi Islands in the Pacific, both thrills and relaxation are a way of life. With the Tapu Tapu wristband (which you'll receive when you enter the park) , you can hold your place in line while exploring the park and you'll be alerted when it's time to ride.  You can also discover interactive surprises with your Tapu Tapu, like special lighting effects, water jets, and much more.
Krakatau, the huge volcano at the heart of the island, has beautiful waterfalls during the day and fiery lava effects at night.  Inside Krakatau are some amazing water slides – the Aqua Coaster (a four-person canoe slide), the Body Plunge (a 125 ft. white-knuckle drop), the Kala & Tai Nui Serpentine Body Slides, Punga Racers (kid-friendly slide on manta ray mats to underwater sea caves).
Throughout the park are you'll find more water fun, like more fun slides, two kids water play areas, a lazy river ride and a whitewater raft ride.  Of course you can also relax and enjoy a tropical drink while working on your tan relaxing on a lounger, too.
For now tickets to Volcano Bay are available when purchasing multi-day Universal Orlando tickets.