Global Pet Expo is in full swing at the Orange County Convention Center, and I spent the day busily looking at new and exciting products and collecting samples for Doggone Orlando reviews. Here are some of the interesting items I saw throughout the day before my feet finally went into full-throttle rebellion mode:
The day started with a media breakfast sponsored by Merrick, purveyors of healthy pet foods and treats. Bolt is absolutely crazy about their dental treats. Here's a little array of their foods:
Lots of samples and literature to gather in the press room. With Bolt, I can always use some extra poopy bags and an easy way to carry them:
First stop on the Expo floor was Urine Off. They have great urine-fighting products, and even more importantly for Expo attendees, they give away these rolling boxes. It's a perfect way to carry literature and samples without destroying your shoulder:
I was pleased to see Jones Natural Chews. Their variety bag is a staple in our house. Bolt loves everything in it (and of course he loves to chew the stinky hooves when he's sitting right next to me on the couch):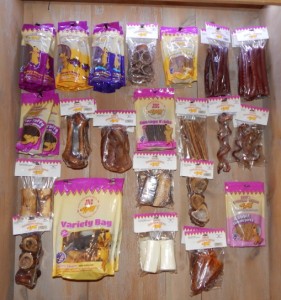 Of course, I can't leave out my cats. They're crazy about these Bench & Field Holistic Natural Feline Treats:
Pet Greens are the best! You've likely seen the grass and catnip at the checkout counter of your favorite pet store. My cats adore the grass, and my guinea pigs love it too:
What? Nine squeakers?! Sounds like doggy toy heaven for Bolt!
I totally can't wait to try to SwiPets glove on all the pet hair that takes over my house each shedding season. The fingers should be perfect for getting hair out of the cat tree baskets:
Gonna test out Forever Furless too. Demo was very impressive:
At lunchtime I learned about the latest wearable tech coming from Motorola. I already love their cameras, which I use to spy on my pets in the house. How about a camera, microphone, and GPS tracking all rolled into one handy collar device?
I love Pet Head dog products and was thrilled to discover that they have a complete line for cats, too:
Cool! Solvit has chair seat protectors. I love their whole couch protectors, and these look like they'd be perfect for my recliners:
Pet Links products are paradise for kitties:
Warm and cool Pet Therapeutics pet mats (the cooling mat looks perfect for patio time in Florida):
Yeowww is certified cat crack! Mewsette already tried to steal my samples:
I got more Merrick goodies for Bolt:
I suspect he's going to love the Stewart freeze-dried treats, too:
Pork Chomps are a healthier alternative to rawhide:
The cats are going to love this stew from Hartz:
Bolt loves Indigo dental chews:
Lindy gourmet dog treats are made by homeless youth:
I was fascinated by this Purina Pro Plan food that's formulated to help improve older dogs' brain function:
That pretty much just scratches the surface of the rows upon rows of pet products presented at Global. Watch for reviews of many of these products in my upcoming posts, and look for them at your local and national pet stores.