I love learning about fun and useful new pet products at Global Pet Expo each year. I used to write about them for About.com, and now I get to do it right here at Doggone Orlando. I can't wait to explore lots of new finds this year, but meanwhile, here are a few of my favorite past discoveries that I still use today:
Scratch Lounge Cat Scratcher: My cats love scratching cardboard, but it's hard to find a scratcher that stands up to their vicious abuse. Last year I discovered the Scratch Lounge Cat Scratcher, which is not only long-lasting despite being shredded regularly by four cats but which also lives up to the Lounge part of its name. All of my cats fight to be the one to hang out on the Scratch Lounge.
Pet Head Shampoo: Bolt's a dirty little dog who loves to roll in the stinkiest stuff possible. I learned about Pet Head at Global in 2014 and am in love with the wonderful scents of their products, not to mention how clean they get my messy little guy.
World's Best Cat Litter: I'd been toying with trying out natural litters a few years back when I finally took the plunge after learning more about World's Best at Global. It's now a staple in two out of my four litter boxes (with multiple cats, I keep the options open by using a couple of different types just in case they get fussy). It's odor-fighting capacity is amazing.
Alzoo Litter Deodorizer: Speaking of fighting litter odors, sometimes your cat litter needs just a bit of extra help. That's where the lovely scents of Alzoo Litter Deodorizer come in. Just sprinkle in a little whenever you top out the litter and you'll have a fresh fragrance.
Adams Yard Spray: Living in Florida, I'm in a year 'round battle against fleas. I live close enough to the woods for ticks to be a problem as well. Adams makes spot-on flea control, but I love to beef that up with the yard spray I learned about last year. The way my corner lot is situated means that I have a variety of dogs coming onto my property with owners who might not be as diligent as I am with their personal pest protection. Adams takes care of that and also fights the ticks from the wooded area just across from us so I don't have to worry about Bolt.
Quaker Dog Toys: Bolt's a terrier mix with the mouth of a pitbull. That means Quaker dog toys are the perfect fit for him. He tears most toys to shreds within weeks, and sometimes days, but his Quaker playthings outlast everything else. I love seeing their new styles at Global every year.
Zero Odor Products: I love the whole Zero Odor product line, which is always on display at Global. Their pet stain remover works miracles in a household with a dog and four cats, and as the name implies, their line is great for eliminating stinky accidents.
Critter Zone Air Purifier: I have two guinea pigs and a bird all living together in a dedicated pet room. Add a litter box and you have lots of stink potential. I discovered Critter Zone at Global a couple of years ago, and I was amazed at how a little plug-in device can make the air so much fresher. It's a pet room staple.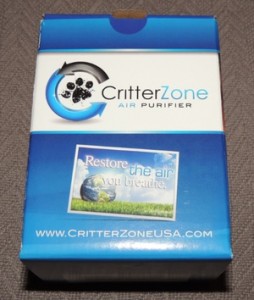 Kurgo Light-Up Dog Vest: I always hit the Kurgo exhibit to see the outdoor products, but the one item that's a must-have in my house is the Kurgo Light-Up Dog Vest. I often walk Bolt after dark, and being in a busy suburban area means encountering drivers who don't always obey stop signs or otherwise pay attention, especially to be black dog. This little vest ensures that we're seen.
Solvit Sta-Put Furniture Cover: Having recently moved into a new house with new furniture, I love the Solvit couch cover  more than I ever did when I first encountered the Solvit booth at Global. My cats and dog all love the couch, and this cover ensures that it's safe from fur, drool, and assorted other critter debris.
Cat Dancer Cat Toy: I'd seen the Cat Dancer in pet stores before trying it out after Global a few years back. It seemed too simple to actually attract cats like the promo materials said, but I have to admit, it works like a charm! My cats like a variety of toys, but this is the one they always go back to. The company has come out with a few other toys over the years, but this one is the go-to in my house when I want the cats to get some exercise.
Yeowww Catnip Toys: My cats are all addicted to catnip, but they're fussy about toys. Some make them act like crack addicts, while others get a "meh" reaction. I picked up a sample Yeowww toy a couple of years back at Global and they fought over it like wild tigers. It remains one of their all-time favorite catnip toy brands.
Stay tuned to learn about all my new favorites as I peruse Global Pet Expo 2015!