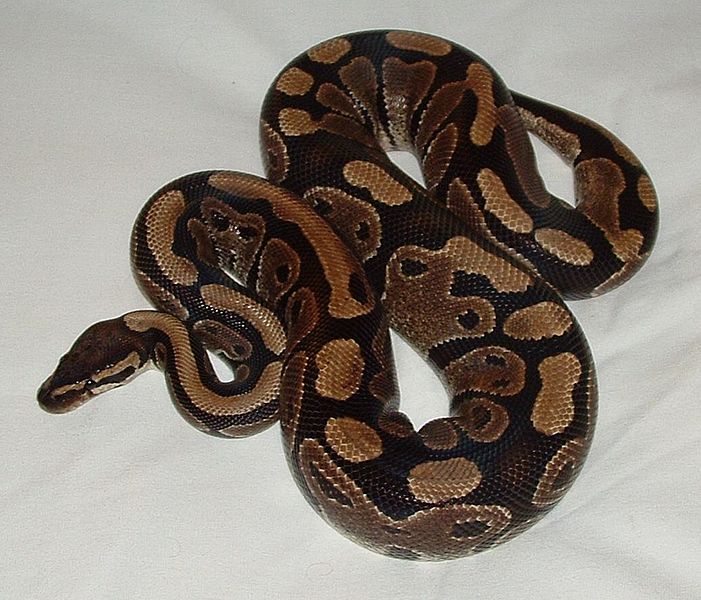 A two-foot ball python got loose in a Volusia County classroom today in a case of pets in the classroom going bad. A third grade teacher at Citrus Grove Elementary School brought in the snake to show the class but apparently didn't make sure that its glass aquarium was escape-proof. When the lid buckled, the snake promptly grabbed the opportunity for freedom, causing a 30 minute evacuation of the school.
School officials downplayed the incident. Volusia County Schools spokeswoman Nancy Wait said that the snake isn't poisonous and doesn't post a threat, so things went back to normal even though it wasn't immediately found. However, back in 2009 a two year old girl was killed by her family's escaped python. Granted, in that case the snake was over eight feet long and very hungry, but it still underscores the fact that pythons can pose a danger to children. That tragic death is not an isolated incident. Just last year, two boys, aged four and six were also killed by a pet python in Canada. In that case, the snake escaped and managed to get into the ceiling, making its way to the room where the young brothers were sleeping.
According to the school, there won't be consequences for the Houdini snake incident because the teacher followed the established rules for bringing an animal into the classroom. Apparently those rules don't include a provision for escape-proof habitats for species that can be deadly.
While the python in question at Citrus Grove Elementary School was much smaller than those involved in the fatal attacks, such snakes don't stay small for long. You can see a larger python in the Wikimedia Commons photo accompanying this article. While responsible owners keep their pets even when they're grown, all too many simply dump them in the wild, creating a massive problem. The Nature Conservancy has more information on this problem on its website. The problem is so widespread that the state actually holds Amnesty Days where owners of unwanted snakes and other exotic animals can surrender them instead of dropping them off in the Everglades to fend for themselves.
While the python visit was obviously a bad idea, pets in the classroom are actually beneficial in many ways, according to The Pet Care Trust, a non-profit organization. They help build empathy in kids, decrease tension, and let children interact with and learn about animals even if they don't have pets. The Pet Care Trust runs the Pets in the Classroom website, which provides grants to help teachers bring animals into schools.